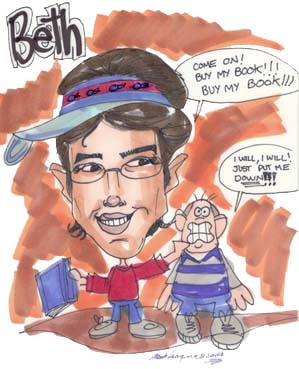 About The Author
Beth David has been writing stories since she could read. She has published a fantasy novel and two children's books. She currently publishes a weekly newspaper from her home.
Beth fell in love with fairy tales before she could even read. The tales of Hans Christian Andersen still hold a special place in her heart.
During the 1970s, Ms. David was in high school and J.R.R. Tolkien's "The Lord of the Rings" became hugely popular. She first read the Trilogy and "The Hobbit" for a literature class. When she was 21, Ms. David decided to write her own fantasy novel with strong women characters, a rather obvious omission in the popular fantasy of the time. Zorena was born. (So was Sonya.)
Alas, the book did not make it into print until 2003 when the technology of the day made it possible to self-publish. It is now available in ebook format.
Since then, Beth has written several other stories, some travel stories, some children stories, all available for Kindle and Nook. "Who Makes the Magic," is her latest foray into the world of fiction.
Her travel story about her trip to Lebanon, the land of her ancestors, has plenty of photos, plenty of family stories, lots of humor, and lots of history about the "land of milk and honey." Beth is an accomplished writer who is able to write nonfiction, new stories and fiction, all with a unique flair.
See the Books & Stories page for details on each book and story.